Mountain Biking
The Portes du Soleil offers extensive options for mountain biking holidays.
Whatever your level and ability the Portes du Soleil offers tracks and trails for you. Whether it is days out exploring the local Cols or villages, or taking on one of the downhill bike parks on offer!!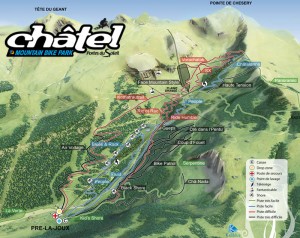 VTT Avoriaz par AvoriazTV
As the trails are linked throughout the area, it is possible to plan your holiday to take in some or all of the villages making up the Portes du Soleil; including: Les Gets, Avoriaz, Morzine, Morgins and Champery.
Marked trails
Graded and permanent down-hill tracks
Bike parks
Dirt zones
Kid's beginner tracks
Extensive network of linking lifts covering 650km
Mountain Biking Holidays & Trips
Chatel Mountain Biking & Accommodation  – www.chatelmountainbiking.com
Bike Chatel – www.bikechatel.com
Mountain Bike Breaks – www.mountainbikebreaks.com
Chatel Mountain Bike Breaks – www.chatelmountainbiking.com
Les Gets – www.portesdusoleil-outdoor.com
Les Gets guides – www.guides-des-gets.com
Bike Hire in Chatel
VERTICAL HORIZONS
1616, route des Freinets
74390 CHATEL
Tel : +33 (0)4 50 73 38 91  
CHARLES SPORTS
88, route de Thonon Maison des Vallets
74390 CHATEL
Tel : +33 (0)4 50 73 24 37  
TWINNER
232, route de Vonnes Résidence Beau Séjour
74390 CHATEL
Tel : +33 (0)4 50 73 30 80  
Bike Hire in Les Gets
EVASION SPORTS
Phone : 04 50 79 70 90
Web site : 
www.evasion-sports.fr
INTERSPORT
Phone : 04 50 75 86 42
Web site : www.intersport-lesgets.com
NEVADA SPORTS
Phone : 04 50 79 71 84
Web site : 
www.nevada-lesgets.com
PHILIPPE SPORTS
Phone : 04 50 79 75 84
Web site : 
www.philippesports.com